Jennifer's Sasee Book Club (Oct. 2008)
By Jennifer Borchers
Sometimes women just want to have fun! We want to kick up our heels and sing a country western song, or play matchmaker with our single friends. Like all the rest of us whimsical ladies, Lindsey Briggs and Emma Woodhouse are just looking for a little fun.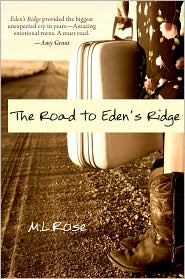 The Road to Eden's Ridge is a sweet romance novel by M.L. Rose (a pseudonym for Myra McLarey and Linda Weeks). In this story Lindsey Briggs is a young woman living in Maine who wants to sing and write country western songs. While looking for something blue to wear to her wedding, she stumbles upon an old box of childhood memories. A crumpled blue-felt cowboy hat, a dusty pair of cowboy boots, and a few song lyrics she wrote in her youth inspire Lindsey to walk away from her life in Maine and run to Nashville to pursue her dream.
Emma

by Jane Austen
Emma, by Jane Austen is a delightful novel about a spoiled rich girl who takes to matchmaking as a way to entertain herself. Emma Woodhouse lives an indulged life in a small English town, but after her best friend gets married she realizes that she needs to find an activity to occupy her time. Emma discovers that she enjoys matchmaking and she sets her mind to meddling in everyone's affairs. Emma's efforts result in a series of mismatches and misadventures. The characters in this novel are fantastic, and add richness to this simple tale.
These are fun novels for book discussions. Consider the personalities of the characters, and the towns, while discussing The Road to Eden's Ridge or Emma. Are the characters realistic? Do you know anyone as carefree as Lindsey or Emma? Are the men in these stories too dim or too simple to be realistic? Why are small towns depicted as magical in many works of fiction?
Great books don't have to be important or serious. Some of my favorite novels are simple tales about eccentric characters who do something on a whim. Look to Sasee for books you can read just for the fun of it!
About this writer
Jennifer Borchers is a frequent visitor to Myrtle Beach. As an Upstate resident, she looks forward to spending her vacation time at the shore and among her favorite haunts along the Grand Strand. Jennifer is a senior at Converse College and will receive a BA in English in 2008. She lives in Greer with her husband and two children.
You can skip to the end and leave a response. Pinging is currently not allowed.